To the crane delivery belongs also the delivery of crane runway - for all crane types (overhead travelling cranes and also portal gantry cranes), provided it is not a part of hall construction. The calculation of crane runway steel construction is prepared in accordance with EUROCODE 3:
---
The following beam shapes are usually used:
The crane runways are delivered as independent beams, which are fitted on hall column brackets or the complete crane runway is delivered together with columns. As a part of crane runway can be delivered: revision platforms (revision foot-bridges), walkways, climbing ladders, (or staircases), connecting and anchoring material.
The crane runways are delivered, if not agreed otherwise, in an execution and assembled according to EN 1090-3. The crane runways are delivered with priming and topcoat. Prior to painting the steel constructions are usually sand blasted. The standard execution of colour shades is::
- runway beams blue
RAL 5005
columns blue RAL 5005 (up to the height of 2100 mm from the ground) - with safety strips

---
On the dangerous spots of the crane and crane runway there are yellow-black safety strips

STN 018012-1,2.
According to STN 018012-1,2. According to the customer requirements it is possible to deliver the crane and the crane runway also in another colours.
The crane runway must be, during the whole service life, permanently checked and maintained.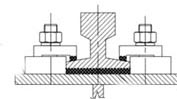 EXAMPLES OF CRANE RUNWAYS